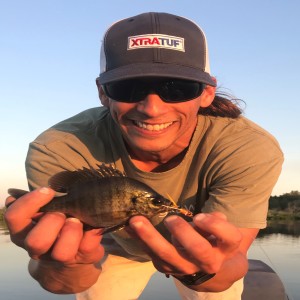 Sunday Mar 06, 2022
167 - Trophic relationships of small demersal reef fishes and diet sampling with Justin Lewis
Harmful algal blooms, lionfish invasions, the Deepwater Horizon oil spill – the Gulf of Mexico's small demersal reef fishes are ecologically important species facing numerous anthropogenic threats. University of Florida PhD student Justin Lewis is using tissue stable isotopes to infer their trophic relationships (you are what you eat) and an ecosystem modeling approach to identify the most effective fish diet sampling schemes given different downstream applications. 
If you want to get in touch with Justin, you can reach him by email: justin.lewis@ufl.edu 
The Fisheries Podcast is on Facebook, Twitter, and Instagram: @FisheriesPod  
Thanks as always to Andrew Gialanella for the fantastic intro/outro music. 
The Fisheries Podcast is a completely independent podcast, not affiliated with a larger organization or entity. Reference to any specific product or entity does not constitute an endorsement or recommendation by the podcast. The views expressed by guests are their own and their appearance on the program does not imply an endorsement of them or any entity they represent. Views and opinions expressed by the hosts are those of that individual and do not necessarily reflect the view of any entity with those individuals are affiliated in other capacities (such as employers).