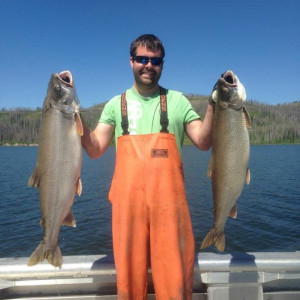 Sunday Mar 27, 2022
170 - Drew MacDonald Discusses Lake Trout Suppression in Yellowstone Lake
A few decades ago, lake trout invaded Yellowstone Lake, wreaking havoc with the native Yellowstone cutthroat trout and the other species that depended on them. In this episode Drew MacDonald discusses  this problem and his research on methods for suppressing the invaders.
If you want to get in touch with Drew you can reach him at:
drew.j.macdonald.1@gmail.com
-------
Get in touch with us!
The Fisheries Podcast is on Facebook, Twitter, and Instagram: @FisheriesPod 
Become a Patron of the show: https://www.patreon.com/FisheriesPodcast
Buy podcast shirts, hoodies, stickers, and more: https://teespring.com/stores/the-fisheries-podcast-fan-shop
Thanks as always to Andrew Gialanella for the fantastic intro/outro music.
The Fisheries Podcast is a completely independent podcast, not affiliated with a larger organization or entity. Reference to any specific product or entity does not constitute an endorsement or recommendation by the podcast. The views expressed by guests are their own and their appearance on the program does not imply an endorsement of them or any entity they represent. Views and opinions expressed by the hosts are those of that individual and do not necessarily reflect the view of any entity with those individuals are affiliated in other capacities (such as employers).