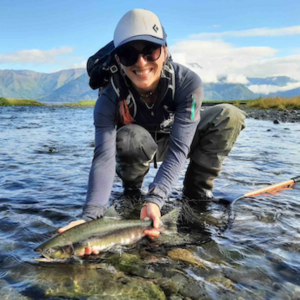 Saturday May 07, 2022
175 - From Fashion Aspirations to work as a Fisheries Research Biologist with Dr. Hayley Glassic
This week Kadie chats with Dr. Hayley Glassic. Hayley is a fisheries biologist for the Northern Rocky Mountain Science Center where her research focuses on the potential for remote sensing data to inform the prioritization and restoration of Lahontan Cutthroat Trout habitat. Hayley recently received her doctorate from Montana State University where she studied the implications of non-native lake trout suppression on the ecology of Yellowstone Lake in Yellowstone National Park. Kadie and Hayley cover her path from initially wanting to be a fashion designer to her current career in fisheries, what sparked her interest in western fish research and more!
If you would like to get in touch with Hayley, you can reach her at hglassic@usgs.gov or check out her website: https://sites.google.com/view/glassicaquaticecology/
If you would like to get ahold of Kadie, you can reach her @kbheinle on twitter.
Get in touch with us!
The Fisheries Podcast is on Facebook, Twitter, and Instagram: @FisheriesPod 
Become a Patron of the show: https://www.patreon.com/FisheriesPodcast
Buy podcast shirts, hoodies, stickers, and more: https://teespring.com/stores/the-fisheries-podcast-fan-shop
Thanks as always to Andrew Gialanella for the fantastic intro/outro music.
The Fisheries Podcast is a completely independent podcast, not affiliated with a larger organization or entity. Reference to any specific product or entity does not constitute an endorsement or recommendation by the podcast. The views expressed by guests are their own and their appearance on the program does not imply an endorsement of them or any entity they represent. Views and opinions expressed by the hosts are those of that individual and do not necessarily reflect the view of any entity with those individuals are affiliated in other capacities (such as employers).