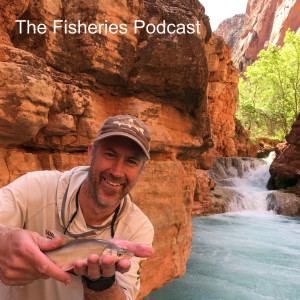 Sunday Apr 24, 2022
174 - Conservation of Native Fishes in the Grand Canyon with Brian Healy
In this episode, Anders Halverson talks to Dr. Brian Healy about the conservation of native fishes in Grand Canyon National Park. Although big dams like Glen Canyon have profoundly changed the Colorado River, native fishes like the humpback chub have managed to hang on in some of its tributaries. Now Brian and others are trying to expand their tenuous toehold even as climate change and the ongoing drought create new threats.
If you want to get in touch with Brian you can reach him at:
brian_healy@nps.gov
-------
Get in touch with us!
The Fisheries Podcast is on Facebook, Twitter, and Instagram: @FisheriesPod 
Become a Patron of the show: https://www.patreon.com/FisheriesPodcast
Buy podcast shirts, hoodies, stickers, and more: https://teespring.com/stores/the-fisheries-podcast-fan-shop
Thanks as always to Andrew Gialanella for the fantastic intro/outro music.
The Fisheries Podcast is a completely independent podcast, not affiliated with a larger organization or entity. Reference to any specific product or entity does not constitute an endorsement or recommendation by the podcast. The views expressed by guests are their own and their appearance on the program does not imply an endorsement of them or any entity they represent. Views and opinions expressed by the hosts are those of that individual and do not necessarily reflect the view of any entity with those individuals are affiliated in other capacities (such as employers).